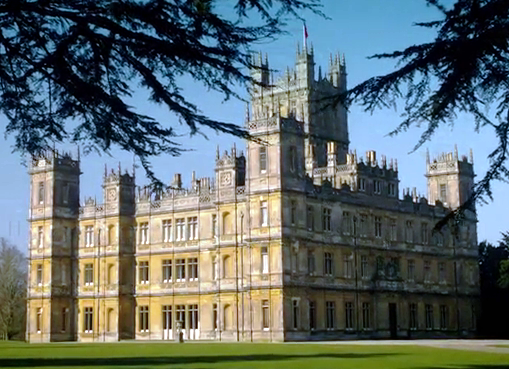 Welcome to Downton Abbey
Downton Abbey is seen in over 100 countries around the world.  This week BBC launched the series in South Africa (Sunday nights), and in Canada Vision TV is broadcasting the series on Wednesdays.
Many of us around the world have seen all episodes (there are two seasons), but it really is great to relive the series again, right from the beginning.  There is so much which is missed the first time. Plus, it kills time while waiting for Season 3.
Our introduction to Downton Abbey is informal, and comes early in the first episode.  While upstairs the Crawleys are still nestled in their beds, there is a flurry of activity down below. In our introduction to the grand home, we see the engine that drives it all.  The maids rise at 6:00 am to open the drapes, dust furniture, tend to flower vases.  William, the footman, irons the newspapers for the Lord and Lady.  Daisy, the scullery maid, lights fires in the various fireplaces around the house, as well as the kitchen stove (horrors).  The first round of duties appears to be done.  The servants scurry back downstairs and out of sight, gathering for breakfast, a rack of servant bells behind them.  A breakfast tray is sent upstairs, others will congregrate for dining.
How Titanic Affects Downton Abbey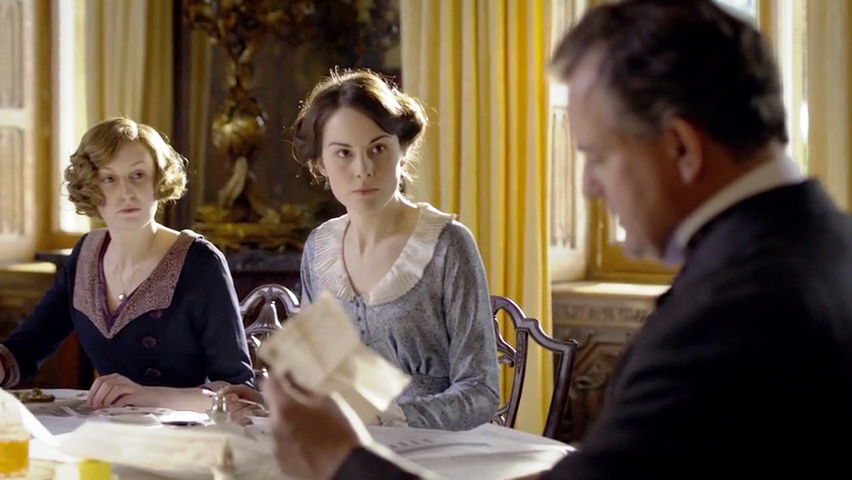 The Crawleys learn of their loss
So while three Crawleys (Cora lingers in her room) discuss the news of Titanic over breakfast, a lone cyclist is making his way to Downton.  The opening shot in this episode is the tapping of a telegraph, which turns out to be news of the Titanic which directly impacts the Crawley family.  Reading the news from freshly ironed papers, Lord Grantham observes: "Every mountain is unclimbable until someone climbs it, so the ship is unsinkable until it sinks."  It would soon become apparent that for the Crawleys, every fortune is safe until it is not.  Unbeknowst to the family, Robert's cousin James Crawley and his son Patrick were passengers on Titanic.  The unthinkable happened: two heirs were lost at sea.  My father (a lawyer) would be proud of the attention to client service: solicitors in New York were very quick to relay the devasting news–well, as fast as telegraphs and bicycles could manage in those days.
Cynics may roll their eyes at the convenient timing of events.  April 14th, 2012 marks the 100th anniversary (check my posted menus/recipes for 1st, 2nd and steerage classes if you want to plan your own tribute)  Julian Fellowes (creator) confirms that we are given a definitive point in history which we can immediately comprehend.  Saves time to spend on developing the character story lines.
What is an EntaiL, Anyway?
While my undergraduate degree is in History, it was part of a Pre-Law program, so I should be able to explain this whole mess.  In short, Robert, the current 6th Earl of Grantham, married Cora for her money to keep Downton afloat.  Don't worry that have been happy ever since.  In a clever move, his father (the 5th Earl) wanted to ensure that her money would not be able to be detached from the beloved Downton Estate, so created the entail to bind the two.  For more information check out Promatica's blog which goes into much more depth.  Property law is one of the less exciting law classes so an appropriate title: Downton Abbey Fans – Welcome to the MOST Boring Law School Class
The details of the entail were not unknown to the Crawleys.  Should Cora have given birth to a male child, all would have been swell as he would have been the heir.  Alas, women don't count when it comes to the laws of inheritance in those days.  As you can see, the couple have 3 lovely daughters.  As a back up, Mary was engaged to cousin Patrick in case something better didn't come along.  As commoners, we are somehow comforted in knowing that the rich have troubles too.  What it comes down to is this.  Change does not come easily to many, and the unknown heir is seen as a threat.  The story line is a great analogy for all the changes that was to occur in this period of history.
The food of Downton Abbey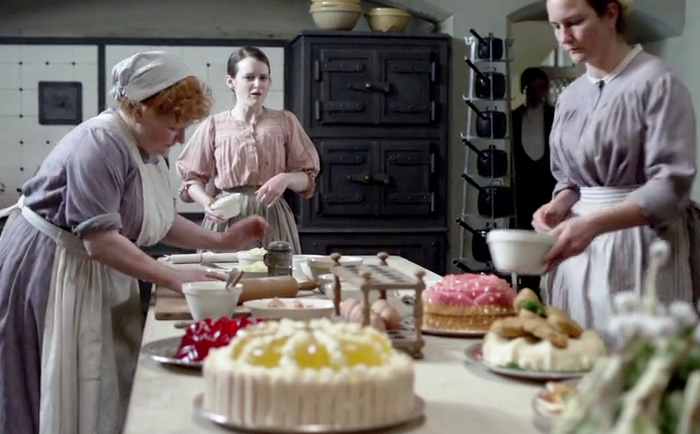 Magic happens in the kitchen
There are many reasons to love Downton:  the costumes, the opulence, the formality, specific characters.  The Dowager Countess is a favorite, and if you tweet, you will love @theladygrantham who lives in Yorkshire and who stays very much in character.
For me, and other foodies, we just can't help ourselves: it is the food which is so fascinating. I immediately fell in love with Mrs. Patmore, who reminds me of my grandmother–and I–her Daisy.   Just look at this picture of lovely desserts, but talk about time warp.  Certain foods do fall in and out of fashion, and they loved their jello back in the day.  Bon Appetit blogged that it was both disgusted and amused. While aspics and jello molds have had their day, you may wish to serve wine jello between courses at your dinner party.  It was served on the Titanic.  I have posted a wine jello recipe which my friend gave to me who got it from a relative.  It is "quite lovely" as I said in the radio interview I gave last week.
I learned to cook from my grandmother (my own Mrs. Patmore) and proudly carry the food traditions of our European heritage with me. My degree in history also further fuels my curiousity, not just about the period, but about how people actually lived.  What were the differences in diet between the upper and lower classes, what food was available at that time and how was it prepared? Which dishes are still prepared to day, handed down from generation to generation? Food and communal dining, has and always will, play a role in bringing people together. There is a big push these days to get families to sit around the dinner table to rebuild the bonds in a frantic world.
I have been interested in looking at the period to gain a better understanding of food of that period. The launching point for this blog was a post on the itv Food page back in October. I already have a pretty good idea of how the servants ate (confirmed in the itv article link) since I already make a mean stew and hearty soups which I learned from my grandmother.
Kedgeree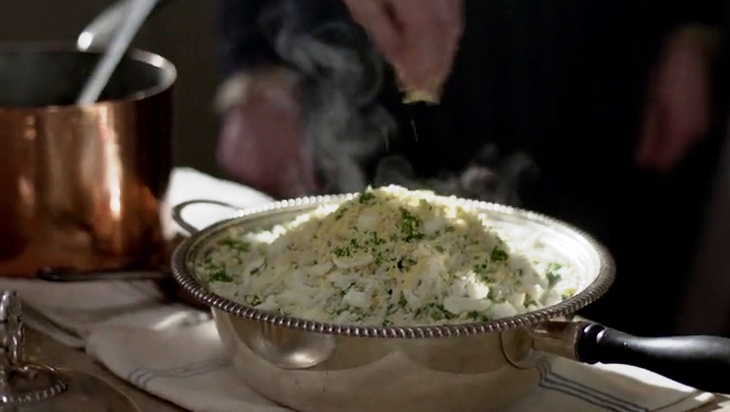 kedgeree, a traditional English breakfast dish made with smoked haddock and rice
The first dish we get to see is Kedgeree.  This dish originated in India, based on khishri, and brought back to the UK by the British Colonials, introducing it as a breakfast dish in the Victorian era. The Brits do love their indian cuisine, I can attest to that. If you wish to delve deeper, you can read more at the British Food Trust site, an authority on all foods British. Rather.
It is a practical dish which, before refrigeration, allowed cooks to use leftovers from the night before to make into hearty and appealing breakfast dishes. Essentially the ingredients are boiled rice, chopped hard-boiled egg, cold minced fish, fried in one pan and flavored with your favorite herbs. I should think this will be great for us to have on hand up at the cottage.
As this is essentially a very simple dish with tons of variations, here is a link to simple version I have previously posted,  as it might have been served at Downton, and some alternatives.
Pie Pastry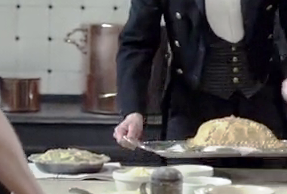 Apple tart and meat pie ready for serving
Amongst the food spotted in Mrs. Patmore's kitchen, was an apple tart and meat pie.  Both were made with a pie crust.  They did make their own puff pastry, but for today we will stick with the food as it was prepared.
I am all about heart healthy eating, and pie is a sometimes food.  As for myself I think of pie crust as the wrapping on the present which I discard and simply enjoy the contents.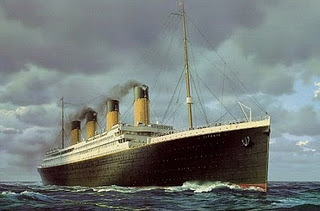 Titanic's historic voyage
Today is Friday the 13th.  For those who are superstitious it is a day to particularly avoid black cats and ladders.  Historically Friday was considered unlucky, as well as the number 13; combine the two and you are asking for trouble.  We have three this year.  Today is our second Friday the 13,  the last falling in June.  It has been suggested that the popular novel published in 1907 titled Friday, the Thirteenth, was responsible for making the day popular.  In the book, an unscrupulous broker takes advantage of the superstition to create a Wall Street panic on a Friday the 13th.
It was a Saturday, 100 years ago, so not likely anyone would have had any inkling of what fate had in store for the passengers and crews of Titanic.  Building Titanic represented the pinnacle of ship building, Belfast seen as the Cape Canaveral of the era.  Everyone on board would have felt privileged to be part of history, but were on the ship for different reasons.  First Class passengers were returning from the Continent, others in lower classes travelling with their families to start a new life in America.
Human nature being what it is, you can imagine that after three days at sea the surroundings were now familiar, and everyone was settling into their own routines, enjoying this luxury liner.  Crew members attended to duties below decks, and since the skies were clear, passengers would have enjoyed walks along the decks assigned to their class of travel.  First class passengers who enjoyed a workout might have migrated to the gym, played squash, or swam a few laps in the pool; others might have attended one of the many Saturday church services.  Printed menus which survived point to the amazing food which would have been enjoyed on board.  The 2nd class menu was actually reproduced as a postcard for passengers to send home.
Alas, all went awry Sunday night.  Most sources seem to agree that Titanic collided with an iceberg at approximately 11:40 pm and had completely sunk at 2:20 am, April 15.  There have been many media stories this week covering various aspects of this tragic disaster.  Relatives and tourists are flocking to Belfast and to Halifax to be part of the experience, from Titanic's birth to final resting place.  The only coverage I have seen in bad taste was on The Talk today.  The "ladies" got all dressed up in period attire, opened the show on a Titanic float, showcased artifacts then proceeded to slam those were on memorial cruises.  "Black people don't do cruises" was actually funny, but comparisons to the Donner Party and Sara Gilbert suggesting that family members should have gotten closure after 100 years to be totally distasteful.  I often have this show playing in the background in my home office, and gave them a lot of leeway, but sorry, no longer.  Shame on you.
I believe that it is the personal stories of the 2,200 people on board which makes Titanic most compelling.  Ordinary people performed the most extraordinary feats to save or comfort others.  All engineers perished as they struggled to the end to keep the lights on so that passengers could find their way on deck.
Canadians and Germans saw the final installment of the Julian Fellowes' Titanic miniseries this week which will be broadcast on ABC tomorrow and Sunday.  It did eventually grow on me as the stories evolved. I struck by the image of survivors in the lifeboats watching in disbelief as the great ship slipped into the water, leaving everything in darkness.  We can't help but wonder what would we have done when faced with the choice of taking a seat on a lifeboat if given the chance, or to stay behind and face death with loved ones.
Please do take time this weekend to say a prayer for those who perished, survived, were involved in rescue recovery efforts, as well as their families.  Thank you to those who continue to keep the memory alive.
Hosting a titanic Dinner this Weekend?  Share your Stories
I have said before that many of us cook as an expression of love for family and friends.  For me, cooking through the recipes was more than just understanding food fashion of the Edwardian period, it was a way to connect with those on board– from those who cooked the meals below deck to the passengers who enjoyed the feasts.
I hope that my journey through the three menus of the last meal on Titanic have served as inspiration for the dinners many of you are planning this weekend.  I have heard from some of you through comments on this blog, on Twitter (@downtoncooks), on my Facebook page, and on my Titanic Pinterest board.  I have included a game plan and a modified 1st class menu if 10+ courses is too ambitious.   The menus have something from everyone, including Jessica Brockmole, an early 20th century novelist whom I met on Twitter yesterday, looking for dishes her 8 year old Titanorak would eat.  According to Jessica, "we're going with barley soup, chicken Lyonnaise, chateau potatoes, creamed carrots, minted peas, asparagus salad, eclairs & ice cream".
Special thanks to Canadian food icon, Dana McCauley for all the dishes she researched for Last Dinner on the Titanic, and whose many recipes I have relied on.  The book is a wonderful collection of recipes, and stories from Titanic.   I would also like to thank fellow Canadian Paula Costa who blogs at Dragons Kitchen who also took up the Titanic challenge a few years ago. Her wonderful photography helped me imagine what some of these dishes should actually look like, and today I actually use her photography so you can judge for yourself.
For those of you who are hosting or attending "home based" events, please do share your stories and pictures with me. I will try to share as many as I can on a future post.  I might even be able to scrounge up a book prize or two for the best entries.
Filet Mignons Lili
Paula at Dragons Kitchen takes a lovely picture
Saving the best recipe in 1st Class for our last day, this dish is a great example of pure Edwardian excess.  You may wish to save this recipe for a meal on its own, perhaps for a Downton Abbey season finale party.  Fois gras is still a luxury item, as are black truffles.  Even the Dowager Countess would be impressed with this dish should it had been served at Downton.
Recipe by Dana McCauley from Last Dinner on the Titanic.
Serves 6

Ingredients
Filet Mignons
6 filets mignons (2 1/2 pounds)
1/2 teaspoon each of salt and pepper
1 tablespoon each of butter and vegetable oil
2 cloves garlic
sliced 6 foie gras (goose liver) medallions (recipe below)
6 cooked artichoke hearts, quartered
6 slices black truffle (optional)
Sauce
2 tbsp. butter
3 large shallots or 1/2 onion, finely chopped
1 1/2 tbsp. tomato paste
1 bay leaf
1 sprig fresh rosemary
1/2 cups each of cognac, Madeira and red wine
3 cups homemade beef stock
Salt and pepper
Potatoes Anna
3/4 cup melted unsalted butter
6 medium baking potatoes, peeled and very thinly sliced
1 tsp. each of salt and pepper
Method
Sauce
In saucepan, melt 1 tablespoon of the butter over medium heat; add shallots and cook, stirring often, for 5 minutes or until softened.
Stir in tomato paste, bay leaf and rosemary until well combined. Stir in cognac, Madeira and red wine; bring to boil.
Boil for 10 minutes or until reduced to about 1/2 cup. Stir in beef stock. Boil for 15 minutes or until reduced to about 1 cup.
Strain into clean pot set over low heat and whisk in remaining butter. Season to taste.
Keep warm.
Potatoes Anna
Brush 11-inch oven-proof skillet with enough melted butter to coat.
Arrange potatoes in overlapping circles, brushing each layer with enough butter to coat; sprinkle each layer with some of the salt and pepper; press top layer gently down.
Place pan over medium-high heat for about 10 minutes or until bottom is browned.
Cover and bake in 450°F oven for 15 minutes or until potatoes are tender and lightly browned on top.
Broil for 1 to 2 minutes or until brown and crisp.
Let stand for 5 minutes.
Filet Mignons
Meanwhile, sprinkle meat with salt and pepper. In large skillet, melt butter with vegetable oil over medium heat; add garlic and cook, stirring often, for 2 minutes; increase heat to medium-high and add filets mignons.
Cook, turning once, for 10-12 minutes or until well-browned but still pink in middle.
Remove from pan and let stand, tented with foil, for about 5 minutes. Wipe out pan and return to high heat.
Add foie gras and cook for 30 seconds per side or until golden brown. Remove from pan and reserve. Gently toss artichokes in pan juices and cook for 2 minutes or until heated through.
Final Assembly
Cut cooked potato rounds into 6 portions and place 1 piece, upside down, on each of 6 heated plates; top with a filet mignon, followed by a slice of foie gras and a truffle slice (if using).
Ladle sauce around edge of plate; garnish with artichokes.
Pâté de Foie Gras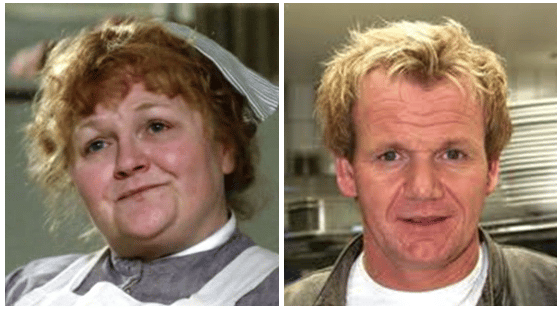 Mrs. Patmore, the Gordon Ramsay of Downton
One final dish to prepare from our extensive menus. It was served as part of the Filet Mignon dish above, but it also held its own served cold as the Ninth Course in 1st Class.  Revered as one of the most exquisite foods in the world, foie gras is synonymous with great taste and unabashed elegance.  While Edwardians relished this special dish, it is more controversial today.  Geese are force fed to improve the flavour of their enlarged livers which form the base of the dish, and its production is being increasingly regulated, and banned in some parts of the world.
I thought it appropriate to delegate this dish to an English chef who reminds me a great deal of Mrs. Patmore, the beloved cook of Downton Abbey.